All parents are invited to Back to School Night on Thursday, August 17th. We will have two sessions, 6:00pm & 6:30pm. See you there!
We are so excited to see you happy faces again. School starts on Monday, August 14th. Our hours remain the same: 7:55am - 2:15pm everyday except Wednesday when our dismissal time is 1:25pm. See you soon!
Principal's Message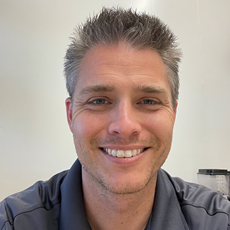 Dear Peters 4-6 Families,
I am excited to introduce myself as the new principal at Peters 4-6 Elementary.  I come into this position with 16 years of experience in GGUSD as a classroom teacher at Doig Intermediate, district teacher on special assignment, and most recently the assistant principal at Walton Intermediate.  Having spent most of my career at Doig and Walton, this neighborhood feels like home to me, and I am honored to be able to join the fantastic team at Peters 4-6 and continue to serve this amazing community.
This summer I spent time with former principal, Dr. Yoon, getting up to speed with the great work that has been happening at Peters 4-6, attended the AVID conference with several Peters 4-6 teachers, which focused on best teaching practices for supporting students towards achieving their college and career dreams, and worked with teachers to put on a Summer Bridge program on campus.  Through it all, I have been impressed with the professionalism and care that our teachers and staff provide for every student.  You can rest assured that your students are in good hands at Peters 4-6 Elementary. 
I firmly believe a good education is the key to lifelong success, and students reach their highest potential when the school and home work together to develop both academic and personal skills in our students.  Throughout the year, we will use this website, ParentSquare messages, and our Instagram account to keep you up to date on what is happening at our school.  I also invite you to participate in our PTO and attend or volunteer at our parent meetings and community events. 
I look forward to getting to know you and your students as we work together to support them on their educational journey.  Go Panthers!
Sincerely,
Sean Dishong
Our School
We are excited for another successful school year with our approximately 600 students.  Our wonderful staff is committed to helping all students achieve the academic and personal skills needed for lifelong success.  Our school has a strong record of academic excellence and has been named a CA Distinguished School, a Gold Ribbon School, and a Title I Academic Achievement School. 
Here at Peters 4-6, we pride ourselves on offering students with an exceptional academic program and many opportunities to thrive!
Our Boys & Girls Club is up and running, and provides students with daily homework help as well as a variety of fun and engaging activities. 
The Academic Pentathlon is a county competition for sixth grade students to compete in academic content areas with students across Orange county. The pentathlon team studies English, math, history and science subjects on an advanced level as a means to prepare for competition. We are proud to announce that 

Peters 4-6 recently won first place at the district scrimmage. 

The College and Career Mentoring Program pairs students with college mentors who serve as positive role models and help students prepare for success in intermediate school. Mentors also share their college experience and help students explore their college and career goals.
Chess Club fosters critical thinking and problem solving as students engage in a plethora of games with one other. 
The Art Club allows students to express their creativity while learning a variety of artistic techniques! 
We are committed to celebrating our students for achievement and effort with monthly and trimester awards. Our trimester awards are given to scholars for having a growth mindset, excelling in academics and having phenomenal citizenship. The monthly awards are given to those students who go above and beyond to demonstrate the character trait of the month. 
Our PTO (Parent Teacher Organization), ELAC (English Learner Advisory Committee) and SSC (School Site Council) meetings engage parents in supporting the success of our school and students! The PTO program is advertised through monthly meetings, our website, flyers, and on the school marquee. Parents assist with all assemblies, field trips, the color run, fundraising, and special school activities.  Our monthly Mobile Food Pantry is a farmer's market style event held in partnership with the Second Harvest Food Bank to prevent hunger in our community.  
Mark your calendars! Peters 4-6 is having a variety of fun events during the 2018-2019 school year. Here are our upcoming events:
Parent and Student Family Barbecue, May 3rd

6th grade science camp on May 22nd

Strawberry Stomp Run on May 26

Open House on May 31st

Spring Music Concert at Don Wash Auditorium on June 4
Please feel free to stop by our school office to find out more about how you can get involved in supporting our school. We value the productive partnerships we have with our parents and community members!